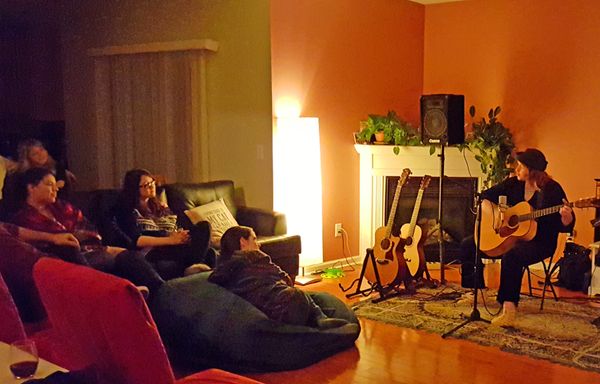 Upcoming Shows:
Sharon Bousquet Duo in Concert
Saturday, Feb. 15th, 2020
Private House Concert, Wilmington, Delaware. 
 
House Concerts are the heart and soul of a touring songwriter's intimate life, and a blessing for hosts and guests alike. It is a way for us to bring the concert to YOU - in your home, your yard, your church, your barn. They are "listening rooms" found on weeknights in Daisy Chain, Arkansas or Tumbleweed, Wyoming where gigs are few and far between and road bills still need to be paid. Some series' are booked two years out and seat 90 people, others are 15 people and a few bottles of wine tucked cozy-like into a warm living room on a cold night. House Concerts and the music lovers who host them are God-sent for musicians on the road wanting to share their life's work with people who listen. 

Sharon Bousquet loves to play in your homes and move hearts to a place of celebration. Contact us at Ricochetcdangel@gmail.com to bring the music to you - on the Spring Tour route between Maryland and Iowa, or along the Eastern Shoreline. 

Need more encouragement?
https://www.societyofbrokensouls.com/house-concerts is a page from my friends Lauryn and Dennis, who also love house concerts and have a further-finished page than mine. Check it out - they are fine players and writers, and their HC page gets the point across. Win-Win-Win for hosts, artists and music lovers, it is a very beautiful thing.